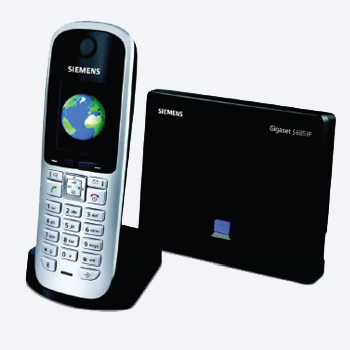 The Siemens Gigaset is a handset specifically developed for business workers who enjoy long, comfortable chats. Its slim, ergonomic design rests easily in the hand and makes even the longest of business calls a pleasurable experience. It offers you all the freedom of cordless communication, ability to make PSTN and VoIP calls and all the comfort of a modern design.
If you're looking for a modern handset with convenient business features designed to complement your busy office lifestyle, the Siemens Gigaset is an attractive choice to any business.
Handsfree talking in brilliant sound quality - This handset's handsfree function is a great solution for multi-taskers with busy lifestyles. With the Siemens Gigaset you can work, organise, email or just relax with your hands behind your head and still be able to take business calls in brilliant sound quality (PSTN and VoIP Calls).
A customised phonebook / directory - The Siemens Gigaset features a massive phonebook and directory that lets you store the numbers of up to 150 business contacts. Finding, editing or deleting your contacts is also simple thanks to the easy-to-read illuminated display.
Customise your phone with various ring tones - They say variety is the spice of life, so go ahead and change your ring tone every week to keep things fresh. With this phone you'll have ten different polyphonic ringer melodies to choose from.
Colour display and friendly keypad.
Dual Mode – acts like a normal PSTN cordless phone and also as an IP phone so your can enjoy all the benefits from both systems.
ECO DECT – for 60% less energy use and variable reduction of transmitting power.
12hrs talk time / 150 hr battery life.
WiFi Enabled – make free VoIP calls between office extension anywhere in the world.