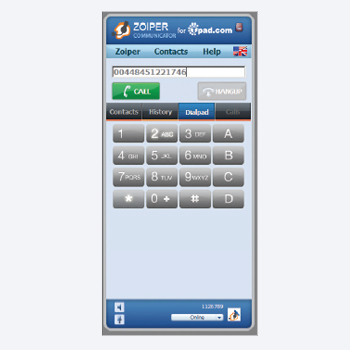 A softphone is a small, simple piece of software that turns your PC or laptop into a fully working telephone. This gives you the ability to call any landline or mobile in the world using your internet connection.
The Tpad softphone helps you seamlessly make the transition from a traditional hard phone environment into the world of Voice over IP with all the advantages that Tpad Business VoIP has to offer.
Advanced Call Features – Call on hold, auto-answer, do-not-disturb, call conferencing.
Intuitive user interface makes it easy for both novice and experienced users to make and receive calls.
A personal address book allows you to create, manage, and personalise your contacts.
Rich feature suite provides users with a confluence of standard telephony features, advanced network and voice media features, including support for multiple USB headset / phone devices.
Enhanced Quality of Service (QoS) for high quality business class voice calls.
Comprehensive Personal Address Book, including detailed calls lists and full call history.
Zero-Touch Configuration of your audio devices.
Microsoft Outlook® integration allowing users to import their address book into their personal contact list.
Multi-party Voice Conferencing [IP + PSTN combinations]
Business Class call features include Voice Call Recording / Music on Hold / Voicemail to Email / Do-not-Disturb / Auto-Answer / Call Transfer / Call Blocking and many more powerful features.
Detachable and sliding side windows for easy access to contact information.
System tray pop-ups allowing easy and visible management of all incoming calls.